Curriculum Intent
Curriculum Intent Statements
Our vision translates directly into our curriculum in that:
LOVE
Our curriculum promotes a love and appreciation of life and learning in all its fullness, enabling children to realise a passion for the possible.
 LEARN
Our curriculum enables children to learn and retain a body of knowledge to which they can develop and apply key critical thinking and communication skills becoming creative, confident and enquiring learners.
THRIVE
Building on their strengths, interest and experiences our curriculum enables children to grow and flourish both academically, socially and emotionally experiencing success in a range of situations and contexts.
The following points summarise in short form the key elements of our curriculum intent.
Curriculum Intent Summary Statement
Our Curriculum is;
Rooted in our vision and principles.
A curriculum for all our children recognising their individual uniqueness.
Ambitious and challenging enabling all children to progress well and be the very best they can be for themselves.
Designed to promote positive attitudes to learning as a highly as the knowledge and skills associated with the curriculum content.
Based on our knowledge and understanding of the key principles of cognitive science and the supporting research behind these principles.
Designed to promote a love of reading and a balance between children acquiring knowledge and skills.
Carefully and systematically planned in sequences to help our children remember and understand knowledge with confidence so they become more fluent, efficient and resilient in their learning.
Balanced valuing equally each subject discipline.
Designed to broaden the horizons of our children from their immediate local communities and prepare them well for life in modern Britain.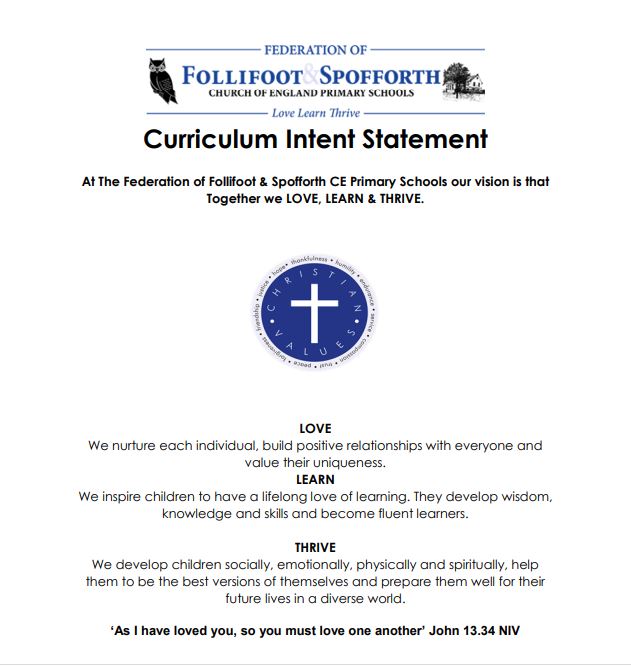 Our full curriculum statement of intent can be accessed by clicking on the link below.
Curriculum Intent Statement 2021 to 2022
Intent – What are Children Taught & When?
An important aspect of curriculum intent is what children are taught and when. We are committed to ensuring our children learn knowledge and concepts for all subjects in depth through carefully planned sequences for each subject.
We have worked collaboratively across the Federation to design our curriculum map that ensures effective progression within mixed age classes.
Please click below for the Nursery and Reception long term plans and the wider curriculum maps for years One to Six:
Wider Curriculum Long Term Plan Year 1 and 2
Wider Curriculum Long Term Plan Year 3 and 4
Wider Curriculum Long Term Plan Year 5 and 6