Nursery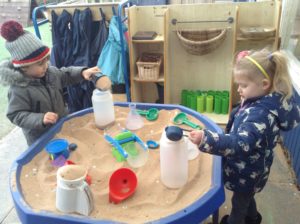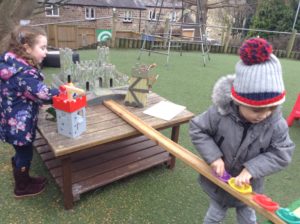 Our Vision of 'Love, Learn, Thrive' alongside Christian Values are at the heart of all aspects of school life.
Our commitment to providing the very best start for children is captured well in Proverbs;
'Train up a child in the way he should go, and when he is old he will not depart from it.' Proverbs 22:6
We are delighted to be able to offer nursery places in our dedicated Early Years setting. Attending nursery in our school Early Years helps prepare children well for starting school full time, the September after their fourth birthday. We greatly value the opportunity to work with children and their families in these pivotal early years helping them to love, learn and thrive.
For further information about our Early Years setting, have a look at the Early Years section of our website by clicking here
Our nursery intake begin in September along with the new Reception children.  Nursery sessions are as follows:
Morning session: 9am-12 noon (Monday-Friday)
Afternoon session: 12.30-3.30pm (Monday-Thursday)
We also offer a nursery lunch club which runs from 12-12.30pm thus allowing families a full day of nursery provision if they wish.
The number of nursery places available is dependent on the number of reception children in each cohort.  Schools are informed of reception cohort in the April before children start in September.  Typically we are able to allocate nursery sessions from May onwards.
Please click on the links below to access further information regarding Spofforth School Nursery:
Spofforth Nursery Admissions Policy
Spofforth New Starter information pack-updated January 2022
Please click on the links below to access nursery forms for you to complete and then return to Spofforth School office.  If you would prefer paper copies, please contact the school office at: admin@spofforth.n-yorks.sch.uk or call on: 01937 590655
Nursery Registration preference V1 Mar 2021
NYCC Parental Agreement 2021-22 (3)
Application_for_assistance_with_free_school_meals