Attendance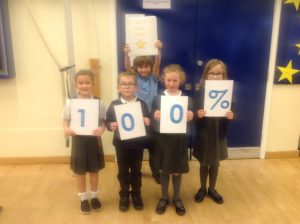 As articulated in our vision of Love, Learn, Thrive and our Mission we;
'value equally both personal development and wellbeing and academic success.'
To achieve this and in order to establish excellent lifelong learning habits excellent attendance at primary school is essential.
Excellent school attendance helps children learn and achieve and for this reason our schools are committed to improving attendance.
It is important that parents and families share and support our understanding of the importance of good attendance as well as our expectations and the reasons for them.
Attendance in 2018-2019 (National expectation 98%)
Follifoot – 96.9%
Spofforth – 96.9%
Attendance in 2019-2020 (National expectation 98%)
Follifoot – 95.73%
Spofforth – 93.06%
Attendance in 2020-2021 (National expectation 98%)
Follifoot – 97.76%
Spofforth – 97.75%
Persistent Absenteeism
Persistent absenteeism is classed as attendance below 90% in a school year. We closely monitor attendance records and will write to parents if their child is at risk of or is classed as persistently absent. We will work closely with families to support them in ensuring children improve their attendance record.
Further Information
Please click on the links below to access further information:
The following guides and information are designed to inform and raise awareness.
Federation Attendance Parent Guide
Our parent guide highlights the importance of good attendance and the impact of low attendance on children.
Absence of Leave Request
We strongly encourage children to attend school every day of the school year. We recognise that very occasionally there may be exceptional circumstances for which parents need to apply for absence of leave during term time.
Please note – no parent can demand leave of absence as a right.
Regulations state that applications must be made in advance and will only be authorised in exceptional (examples of exceptional circumstances are given on the request form) circumstances. Absence of leave requests apply to all children registered at the school even if they are not yet of statutory school age (5 years old).
If you need to make a request please click on the link below to download the request form and submit it to the respective school office as far in advance as possible and at least 6 weeks before the first date requested.
Application-for-pupil-leave-of-absence
Following submission of requests forms we will write back to parents with a decision.
Please note it is not possible to replicate the work children will miss in other forms as the children will miss the direct teaching. Teachers and support staff will do their level best to support children upon their return but please be aware all absence disrupts the learning process and impacts on the continuity of education.
NYCC Rights & Responsibilities Guide
The NYCC rights and responsibilities documents outlines parents rights and responsibilities in relation to attendance. It explains the possible outcomes of poor attendance for children and parents. It highlights that schools can contact the LA to request the issue of a Penalty Notice, if there have been at least 10 sessions (five days) of unauthorised absence in the preceding four months.
Information_for_Parents__-_rights_and_responsibilities
The FAQ document answers the most common questions regarding penalty notices and other aspects of attendance.
Frequently_asked_questions_about_penalty_notices_for_unagreed_leave_of_absence_in_term_time