COVID 19 Full Re-Opening
Full Re-Opening – March 2021
 A dedicated page focusing on the return to face to face learning for all children from Monday 8th March 2021.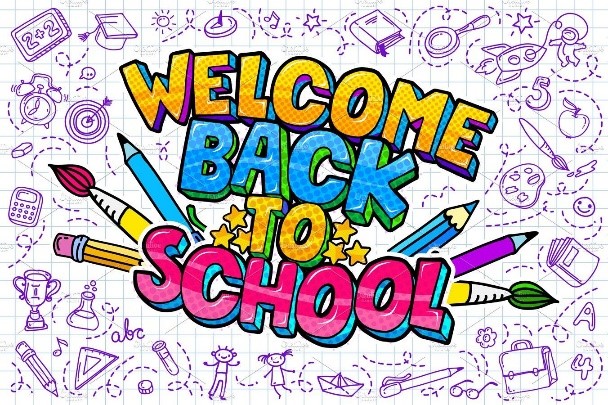 Preparing to Return
We are delighted that all children will return to full time face to face learning from Monday 8th March 2021.
As a team we have planned carefully for this drawing on previous experience. The emotional wellbeing of our children is at the forefront of our thinking as is supporting their return to school based academic learning. We are proud to have worked together with families for the benefit of all children during this latest lockdown and will continue to do so as children return.
A Positive Outlook – 'Meet them where they Are' 
 When children return to school our first priority is settling them into school, supporting their mental health and establishing routines and learning behaviours for face to face learning. We know emotional security and stability alongside the right attitude and behaviors are prerequisites to learning. 
 We see our children as the generation who have built resilience, self-reliance showing compassion for family and community, both local and global. In the last year they have shown creativity, imagination, and adaptability. These qualities will serve them well as they continue their education and throughout their lives. Our children have continued to thrive in many ways and we are proud of them all. Their spirit and positivity are an example to us all. We owe it to them to use positive language and create a culture of 'can'. 
 We are purposefully choosing our language carefully. We will 'meet our children where they are' in relation to how they are socially, emotionally and academically. We will assess and support them with what they need now and plan for what is needed next. We will work systematically planning for the initial return period and then the remainder of the school year. Because we believe in our children, know the importance of self-worth for good emotional wellbeing and in line with our vision for 'Love, Learn, Thrive' we will not label them as 'fallen behind', 'lost generation', needing to 'catch up' or 'having gaps'. 
 We believe that with a systematic plan informed by the principles of cognitive science that lie at the heart of the new curriculum the vast majority of children can have a secure understanding of the knowledge and skills relevant to their year group by the end of the school year.  
 The key focus for us is to make sure children know and remember the important knowledge from this year's curriculum by the end of the school year. We will help our children build this knowledge systematically through carefully planned sequences. We will avoid overloading children' learning, or rushing too quickly through the curriculum. We will retain a broad and balanced approach that provides a positive learning experience helping our children to 'Love, Learn, Thrive'.  Focusing on the most important priority knowledge needed in each subject for each age group by the end of the school year is our key action.  
 Assessing knowledge retention from learning in the autumn term and from the most recent remote learning period all subjects through low stakes quizzes will inform planning for the remainder of the year.  
 A small number of children will benefit from more personalised and or specialist help and support during and beyond this academic year. Appropriate adults in school will work closely with children and families to make, monitor and evaluate this provision. 
Attendance
From Monday 8th March 2021 children must attend if they are fit and well. As stated by the Department for Education (DfE)
'School attendance will be mandatory for all pupils from 8 March. The usual rules on school attendance apply.
If parents are concerned about sending their child to school from the 8th March we ask that in the first instance they get in touch with their child's class teacher by emailing either admin@spofforth.n-yorks.sch.uk or office@ffspschools.co.uk. Your message will be forwarded to the appropriate teacher who will be able to offer support. If necessary the SENDCO and/or Headteacher can provide support also.
Practical Arrangements
 The majority of the arrangements in place during the autumn term will remain in place when children return. Our risk assessments have been updated to reflect the latest guidance.
Please click on the link below to access our Updated Full Re-Opening Guide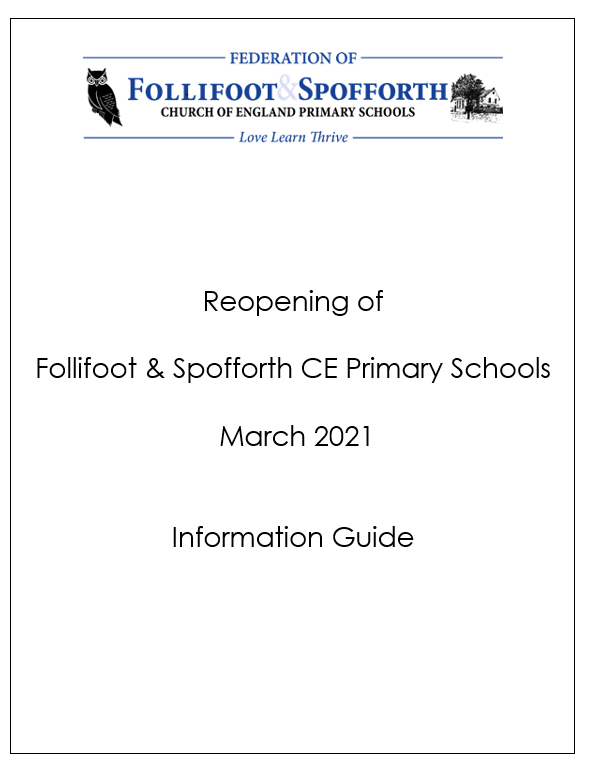 Click here to access: Full Opening Parent Information Booklet Fed Folifoot & Spofforth March 2021
Visual Guides
We have updated the visual guides to support children and families with returning. Please click on the links below to access these guides.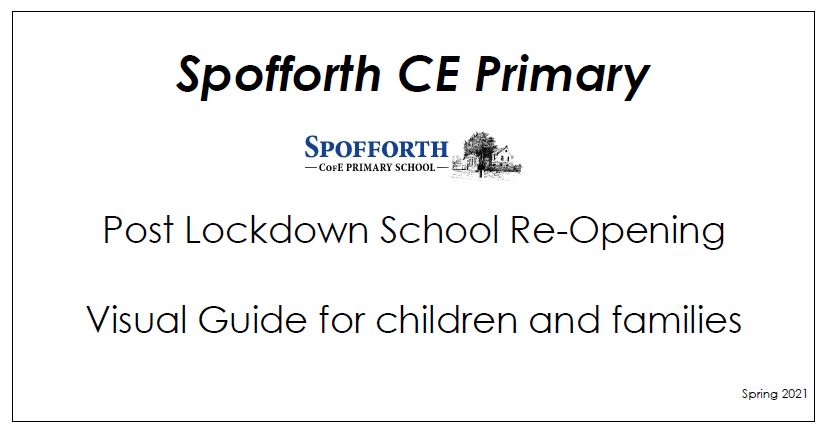 Please click on the link to access: Visual Information Guide Spofforth Summer 2021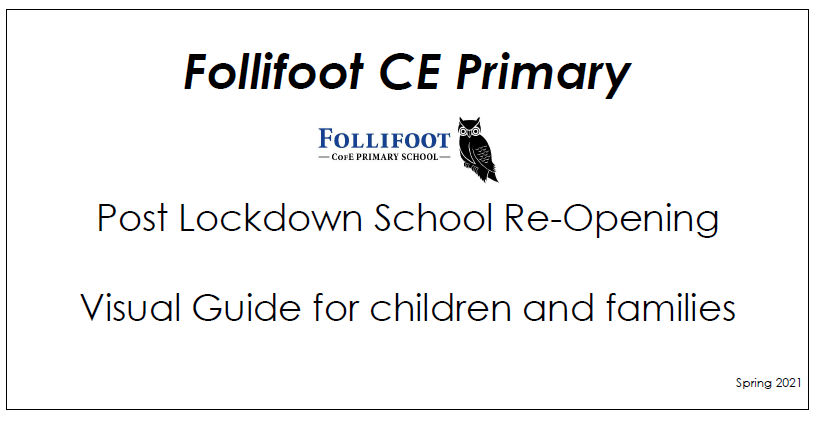 Please click on the link to access: Re-Opening Visual Information Guide Follifoot Spring 2021
Letters and Newsletters
Please click on the links below to access the relevant letters and newsletters.
Head Teacher re-opening Letter 1st March 2021 Follifoot
Head Teacher re-opening  Letter 1st March 2021 Spofforth
Welcome Back Newsletter – Class 1 Spring 2021 Follifoot
Welcome Back Newsletter – Class 2 Spring 2021 Follifoot
Welcome Back Newsletter – Class 3- Spring 2021 Follifoot
Welcome Back Newsletter – Class 1 Spring 2021-Spofforth 
Welcome Back Newsletter – Class 2 Spring 2021 Spofforth
Welcome Back Newsletter – Class 3 Spring 2021 Spofforth
Welcome Back Newsletter – Class 4 Spring 2021 Spofforth 
Addressing the Impact on Children of COVID19 School Closures
 As a Federation we are taking, a clear evidence led strategic approach to planning and delivering this support.
We are pleased that the improvements made to remote learning and our support to facilitate access during the latest lockdown have enabled more children to access and our improved remote learning. This means more children have kept up with their learning during this latest lockdown. As a result of the improvements made, children have accessed the vast majority of the planned curriculum during the lockdown period. Because of this, children are likely to have fewer gaps in their knowledge.
We strongly believe in the need for a graduated approach that can be responsive to each individual child. Although school closures have undoubtedly affected every child they have not done so in the same way.
The impact of time away from school on children is likely to be both social, emotional and academic. In line with our vision 'Love Learn Thrive', we are committed to supporting children in all these areas.
While disruption to education on the scale recently experienced has not been seen in modern times, there are evidence bases on which we can draw. We can learn from the support given to children who are absent from school for extended periods due to serious illness.
There is a wealth of research around supporting children in addressing gaps in knowledge and understanding. We will draw on this evidence to ensure our plans have maximum impact. We will continue to make use of evidence collected through the Education endowment Foundation including their recent materials specifically designed around the impact of COVID19 school closures.

https://educationendowmentfoundation.org.uk/
We are implementing a strategy which will ensure children are well supported as they return to school considering their experience of remote learning.
Our priorities involve two tiers:
Tier 1:  Quality first curriculum implementation with additional TA support where necessary.
Tier 2:  Identified children who will benefit from additional, targeted support.
Addressing the Impact 
Please click on the link to access: Addressing the Impact of COVID19 School Closures Spring 2021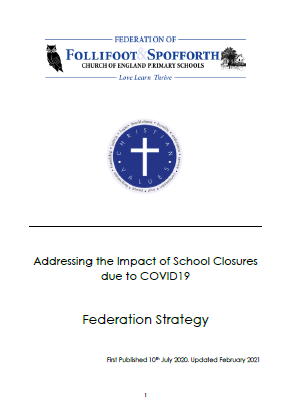 Please click on the link to access: COVID Funding Report Follifoot CE Primary School &
COVID Funding Report Spofforth CE Primary School